Education
Mastering online study for nurses: leveraging remote collaboration and research skills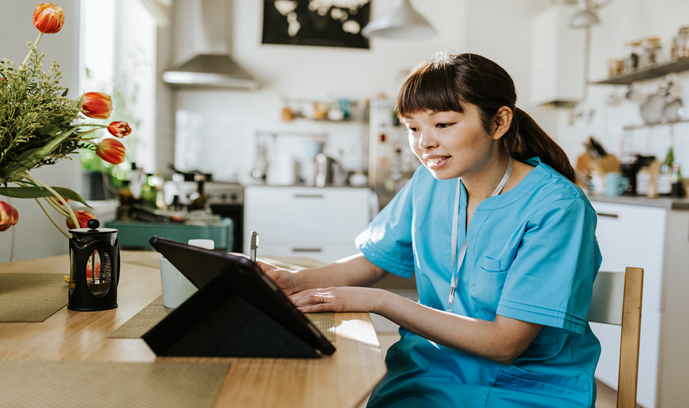 In nursing, adapting to new technologies and methods is essential. Healthcare is increasingly seeing changes with scientific research and its latest innovations in clinical practices. Nurses in scientific research face unique challenges yet have access to unique opportunities through remote collaboration and online education. The rewards of practicing remote collaboration and improving online research techniques are discussed for nurses doing scientific research.
Access to diverse learning resources
Diverse learning resources are an essential part of online study for aspiring nurses who want to succeed in scientific research. With digital education platforms, nurses can access a comprehensive library of specialized content they may not find in traditional educational settings. This extensive and varied learning ecosystem includes scientific journals, research databases, interactive e-learning modules, and virtual labs. Nurses can broaden their understanding of scientific processes by analyzing cutting-edge research from global experts in their field.
Moreover, the online study helps nurses customize their education to suit their research interests and objectives. They can choose courses and resources to align with their chosen research niche, whether centered on clinical trials, health informatics, or epidemiology. With a personalized approach, nurses understand the basics of nursing and acquire specialized knowledge needed for their research projects. Advancing the nursing field, Ph.D. prepared nurses can expand their knowledge base. Wilkes University online offers an online PhD Nursing program where they can conduct research into a topic of their choice and learn leadership skills.
Paramount in the ever-changing field of scientific research is staying current with evolving developments. Through real-time access to updated content, online study platforms help nurses stay current with the latest advances in their field. Timely data sharing in real-time is essential for study growth in dynamic areas like pharmacology and genetic research, as well as new health risks that may arise relating to emerging pathogens.
More than that, online education nurtures a worldview and enables diverse knowledge exploration. Insights into global healthcare challenges and solutions are gained as nurses interact with peers from diverse cultural backgrounds and healthcare systems. Working on collaborations with multiple viewpoints improves their skills for global research projects and boosts knowledge in the healthcare field.
Flexibility and convenience
Flexibility and convenience are crucial elements for nurses studying online to pioneer their careers in scientific research. Their ability to balance professional responsibilities with academic pursuits depends significantly on these aspects and improves their learning experience.
In online education, flexibility allows nurses to personalize their learning schedules. With the help of online learning platforms, students can access course content according to their personal and professional obligations. Clinical nurses find their great adaptability critical when faced with the unpredictable nature of work hours. Online study empowers nurses to learn anytime, including early morning and breaks between shifts.
Also, the convenience of online learning eliminates the demand for physical attendance at a traditional school. Through learning from their homes or any internet-accessible location, nurses benefit from flexibility, saving time and money on commuting costs. Students in remote areas or whose family responsibilities make on-campus classes difficult find this especially beneficial.
A self-paced learning option is a crucial perk of online studies. With the course material, nurses decide their learning pace and areas they want to spend extra time on. Through personalized methods, they gain a deep understanding that enables them to apply the content in their research projects successfully.
The ease of online studying also carries over to the accessibility of course materials and resources. Digital textbooks and video lecture material can be accessed anytime with online forums, allowing nurses to revisit the concepts when required during the day or night. Conducting research or working on exams with peers often involves access to valuable resources.
The elimination of geographical constraints is another aspect of convenience in online education. Nurses can enroll in programs and courses offered by institutions worldwide without needing to relocate. This opens a broader array of educational opportunities and the chance to learn from experts in various fields, enhancing the overall quality of their education.
Enhanced remote collaboration skills
Remote collaboration skills strengthened for nurses navigating the science research path contribute to success. Online study environments foster digital channels and remote collaboration in contemporary healthcare and research to develop essential skills. By learning to convey their ideas coherently and professionally, nurses are prepared for productive dialogues and sharing research findings with colleagues across geographical boundaries. Also, online learning cultivates adaptability, which is essential for virtual teamwork and collaboration in multidisciplinary research projects. Teamwork dynamics are optimized as nurses gain expertise while respecting the contributions of others.
Nurses can develop their problem-solving and critical thinking skills as they encounter and work collaboratively to resolve complex situations through online learning. To execute and analyze research studies efficiently, developing these skills is crucial. In online collaborative environments, nurses hone their time management and accountability skills, features essential for meeting research deadlines and milestones.
Another aspect of online study is that technological proficiency enhances remote collaboration skills. Notably essential for research settings are the skills nurses gain using digital tools and platforms like video conferencing, cloud-based file sharing, and collaboration apps. These tools make streamlined data collection, analysis, and dissemination possible.
In addition, online learning allows nurses to collaborate globally and work with peers from various cultural backgrounds. Through international exposure, healthcare researchers gain vital cross-cultural awareness and the ability to work with global partners. Nurses pursuing online learning develop more vital remote collaboration skills necessary for meaningful participation in scientific research advancements and improved patient care outcomes within constantly changing virtual workspaces and international cooperative efforts.
Efficient literature review and research skills
Online study environments offer nurses the chance to develop efficient literature review and research skills in preparation for their careers in scientific research. Online education positions nurses to mine the digital archives efficiently, keeping them well-informed about their practice. Nurses must develop critical appraisal skills to assess the quality and credibility of research sources by examining methodologies, statistical analyses, and potential biases. Pivotal for evaluating credible information that supports their investigations, these skills are essential for building sound research outcomes. Through online learning environments, students develop critical skills in organizing vast data and converting challenging research findings into transparent formats.
Besides medical knowledge, nurses learn essential citation skills that form the backbone of ethical research. Acknowledging sources responsibly and ethically is necessary to maintain the highest academic standards in research. With online study platforms, nurses can delve into a broad range of resources, including research studies and systematic reviews, for in-depth exploration of their fields.
In addition, online learning introduces nurses to software such as EndNote or Mendeley for handling literature and managing citations, resulting in a more straightforward organization of research materials and creating bibliographies and reference lists. Tools aim to make the literature review and research documentation process more efficient. Online study helps nurses stay current by setting up alerts and notifications for new research publications, maintaining knowledge currency, and leading the field in research. Online education prepares nurses with the multifaceted skill set to implement evidence-based practice, grow nursing knowledge, and advance improvements to healthcare through rigorous, informed research efforts.
Networking opportunities
Networking opportunities are critical in online education for nurses seeking scientific research careers. Beyond the virtual classroom, research opportunities contribute significantly to their professional growth. The connection with many different peers is one aspect that online study platforms offer. Nurses with separate geographic roots, healthcare skills, and career stages contribute to joint projects online. Diverse perspectives on networking enrich social interactions, helping identify healthcare problems better. Through these connections, nurses have the potential to widen their horizons by learning more about different aspects of research and forming enduring professional bonds.
Online networking allows nurses to establish a global professional network beyond geographical boundaries. Interacting with international communities in healthcare brings exposure to diverse healthcare systems, methods of research, and cultural experiences. This global outlook broadens their understanding of healthcare and allows them to pursue collaborative research initiatives globally, becoming more significant in scientific investigation.
Online study networking goes beyond peers; it extends to communication with educators, guest presenters, and specialists. In many online programs, Webinars, guest speaker sessions, and virtual conferences give direct access to influential figures in nursing research. Not only do these engagements provide a space for knowledge acquisition, but they also offer insights into emerging trends and the potential for mentorship.
Access to funding opportunities
Access to funding opportunities is vital to online nursing education networking for scientific research. Networking has the potential to introduce nurses to various financial resources that support their research adventures. Nurses discover funding opportunities through professional networks, including research grants and scholarships. Government agencies, private foundations, healthcare institutions, or research organizations can provide grants. Networking helps nurses match their research interests and career aspirations with these opportunities.
Collaborative research projects involving multiple institutions or organizations often arise from networking. When working collaboratively, joint funding chances are frequent. By working with various professionals through their online education experience, nurses can facilitate innovative research collaborations and connect to shared funding initiatives.
Many research centers, academic institutions, and healthcare facilities set aside money for nursing research via endowments and funds. By networking, nurses can connect with faculty members, mentors, or alumni associated with these institutions to access valuable information on funding sources.
While networking, nurses may meet experienced colleagues who can help them gain research grants. These mentors can help design persuasive grant proposals, understand submission requirements, and improve the odds of obtaining funding. Networking creates mentorship relationships essential in overcoming a highly competitive research funding environment.
Healthcare and research face a constantly evolving environment with emerging health challenges or policy changes, creating new funding opportunities regularly. Networking is critical for nurses to stay up-to-date on emerging funding sources, ensuring their adaptability and readiness for new opportunities. Networking highlights the benefits of online nursing education. By providing diverse funding options, it bridges the gap between initial investments and ongoing support for innovative projects in healthcare research.
Career advancement through collaboration
Networking within online nursing education for scientific research roles can lead to critical career advancement outcomes. Networking can help nurses explore diverse job possibilities, such as research positions, academic functions, and healthcare roles that match their professional aspirations. This access to hidden job openings provides a considerable advantage for them in the competitive landscape of the job market.
Networking often results in valuable recommendations and references from mentors and colleagues. These endorsements are crucial in job applications and promotions, propelling career growth. Web-based networking supports professional collaboration, resulting in continuous learning about new industry trends and practices impressively. Their expertise makes them more desirable job candidates. Continuous learning enhances career advancement opportunities.
Networking and mentorship relationships go hand in hand; experienced professionals help nurses grow their careers. Career mentors assist with goal setting and offer advice on having successful careers while supporting through challenges. Networking creates opportunities for collaborative research among experts, allowing nurses to expand their portfolios and become more visible in academia and the professional community. Collaborative efforts can foster entry into more advanced research roles and career growth.
Networking connects nurses with significant figures in nursing and healthcare and encourages them to take on leadership roles or research opportunities. Demonstrating the ability to lead and drive positive change in healthcare settings, leadership experience is a critical factor in career advancement. Online nursing education networking offers valuable career opportunities by priming nurses for success in the changing world of healthcare and scientific research.