Education
Benefits of Graphic Design Courses Online for Beginners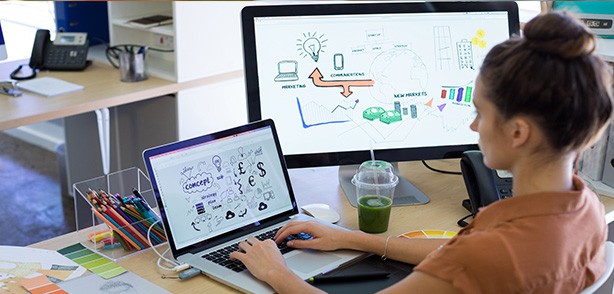 Understanding the requirements of the clients and translating it into designs that speak volumes, is simply an art in itself. Today, graphic design professionals are thriving in the industry. They are responsible for creating designs for the print and digital mediums. The job demands you to be creative in your imagination so that you can entice the audience and convert them into leads. Every marketer looks out for designers who are exceptional and whose work speaks volumes. There are plenty of graphic design courses that you can enrol yourself in if you wish to learn all about it.
There are many benefits that a professional in this field experiences. Each day, a new opportunity is presented which only makes the job fun and exciting. If you are considering becoming a graphic designer, then by all means you should pursue it. Here are some of the advantages you will get:
You can express your imagination as freely as possible. Yes, there is always a brief and specific requirement, but you can totally take those as a cue and build on something even more powerful.
Every project is different and you may have to enhance your skills each time. It gives you the opportunity to learn and grow further.
Once you have a solid portfolio, you can get the opportunity to work with many reputed companies as well.
As for the income, graphic designers earn quite a decent salary and as you gain more years of experience, you will earn more and more.
There are many designers who have a full-time job and then get the opportunity to even freelance. In fact, as a freelancer, you will earn a lot more as many companies look out for freelancers instead of agencies.
You also get access to a lot of resources once you are a part of this industry. You get the chance to get familiarised with lots of software technology which only goes on to improve your skills.
The network you build being a graphic designer will always stay with you. As you progress in life, a lot of new opportunities will begin to present itself. This is one of the main reasons why graphic designers do their best to deliver exceptional work.
Your mind is constantly at work thinking and brainstorming new ideas. This is good for your mental health as your mind is active and not stressed.
Being a graphic designer in today's world opens up a lot of opportunities. It is a job that is in demand in every corner of the world. So, if you are interested, maybe you can try some of the free online graphic design courses, and if you further wish to get a degree, you can go ahead and enrol yourself in a design institution. It is a successful career and if you have a knack for good art, you should definitely give graphic designing a shot and you will know the benefits it offers.